Tuolumne County to continue talks with longtime ambulance contractor while seeking potential replacement | News
4 min read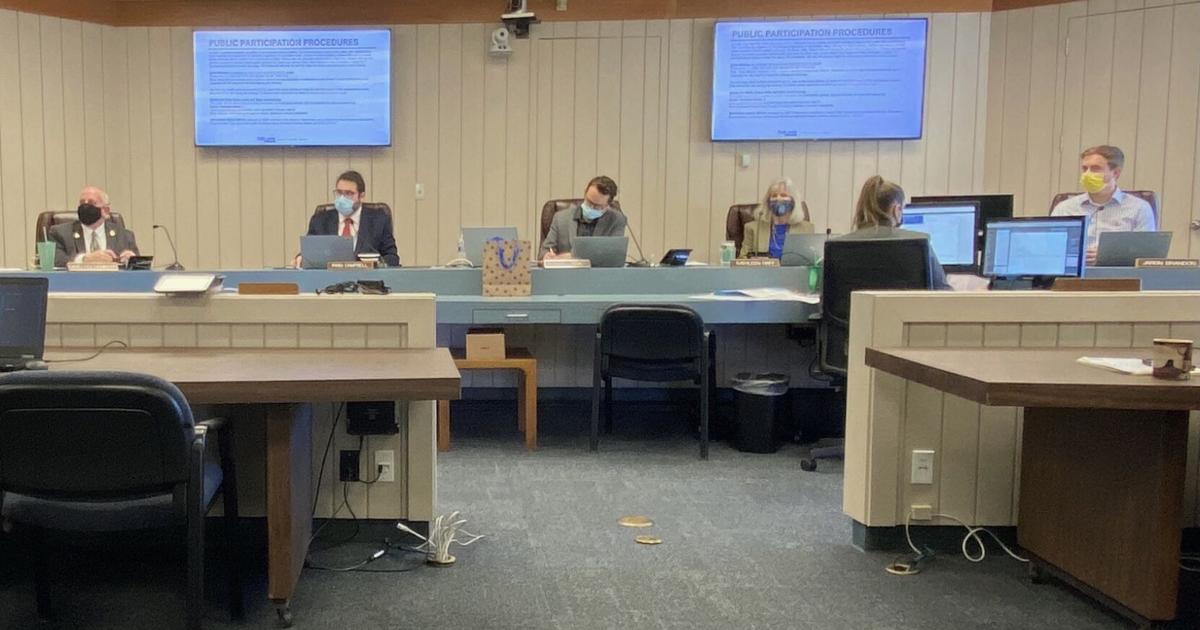 Tuolumne County will continue talks with the contractor that has provided its ambulance staffing for the past 35 years while also seeking options for a potential replacement.
The county Board of Supervisors on Tuesday voted unanimously to issue a request for bids from other contractors and keep negotiating with Manteca District Ambulance Service, days after a county staff report publicly revealed tensions between the two entities.
According to the report, Manteca District Ambulance Service issued a notice of intent on Nov. 5 to end its contract with the county effective May 5 due in part to struggles with staffing and transfers of patients to medical facilities outside of the county.
Eric Erhardt, assistant county administrator, and Steve Boyack, assistant director of county Health and Human Services, were recommending the board direct county staff to issue a request for proposals for future ambulance services in the county that would include emergency response, medical transfers and behavioral health transfers.
William "Bill" Caldera, chief executive officer for Manteca District Ambulance Service, came to the meeting in Sonora on Tuesday and read from a two-and-a-half page prepared statement before the board voted. 
The statement Caldera read from did not explicitly state the contractor's letter of intent to end its contract with the county was a negotiation tactic. Caldera stated verbally later in the meeting that he would consider rescinding the letter of intent to terminate.
"The recent release of the staff recommendation to change the county ambulance operations and to put the system out to bid is cause for MDA to respond," Caldera said, reading from his written statement. "Articles in the local media and the information released are accurate. However, we are concerned for the ambulance system and the county."
Since 1987, the contractor and county have formed a public-private partnership to provide ambulance service in the area. The county owns the ambulance facilities, vehicles, and equipment necessary, while the contractor has provided the staffing for daily operations.
County staff learned at a Nov. 8 meeting with the contractor that one of the primary reasons for its notice was its inability to recruit and retain adequate staff to provide the services needed.
"We're healthy," Caldera said Tuesday. "We just need humans."
Caldera said he and Manteca District Ambulance Service have risen to every challenge over its decades in the county, including being prepared to transport patients with HIV, TB, ebola, influenza, SARS, H1N1, and now COVID-19.
"Last year, we lost an employee to the latest disease," Caldera said, referring to COVID-19, in his written statement. "We have facilitated the county's fiscal needs by not taking contract increases on several occasions, all to protect the integrity of the ambulance system."
Speaking for himself and his employees, Caldera said that today they are seeing the ambulance system they have worked in possibly going out to bid, instead of finding a way to work within their limitations to do all the tasks that the county and local health care entities request.
"To be clear, MDA will not abandon the county without a replacement provider in place," he concluded. "Now that we are aware of the county staff's recommendation, we must ask that MDA be allowed to, once again, sit down with the county and provide other solutions that are available and more beneficial to the community. We are proud of our 35 years. Seeing this system financially solvent and surviving through the most challenging times is of the utmost importance."
The five elected county supervisors were unmoved by Caldera's overture and request for them to ignore staff's recommendation to put future ambulance services in the county out for bid.
"Wasn't there a notice to terminate?" Anaiah Kirk, the District 3 supervisor and new board chairman, asked before the board voted.
David Goldemberg, the District 1 supervisor and a retired firefighter, said the contractor and county talked about increases not long ago and asked why Caldera had not brought up the concerns then, as opposed to putting them in a letter of intent to terminate the contract.
"You seem surprised the county recommends issuing an RFP," Goldemberg said, referring to a county request for bids. "Don't you think the county was surprised when you issued your intent to terminate?"
Jaron Brandon, the District 5 supervisor, told Caldera, "A letter of termination intent is not a way to reopen discussions with the county."
Kathleen Haff, the District 4 supervisor who represents Groveland, said, "We're two months into a six-month cancellation. We've got to go out to RFP. I'm firm on that."
As part of the existing contract, the county government has provided fiscal and administrative oversight and billing for the ambulance service through the county Health and Human Services Agency. 
The county currently operates four ambulance stations, with five advanced-life-support ambulances operating 24 hours a day.
Advanced-life-support ambulances, also called ALS ambulances, are staffed by Manteca District Ambulance Service with at least one paramedic and one emergency medical technician. 
Basic-life-support ambulances, staffed with two EMTs, are intended to respond for patients that require lower levels of care.
The county's five ALS ambulances responded to a total of 7,541 calls for service between July 1, 2020, and June 30 last year, the staff report said. Included in those calls for service were about 1,200 calls to Adventist Health Sonora for patient transfers to other facilities outside the county.
Under the current agreement between the county and the contractor, Manteca District Ambulance Service also provides transport of residents suffering from mental health crises from Adventist Health Sonora after they have been medically cleared to go to other facilities.
Manteca District Ambulance Service did 201 patient transfers to psychiatric facilities in the previous fiscal year.
A Manteca District Ambulance Service webpage states it was founded in 1951 to provide ambulance services in Manteca. It's identified as a nonprofit ambulance company that serves Lathrop, Manteca and Tuolumne County. It handles more than 20,000 calls a year.
https://www.uniondemocrat.com/news/article_b22a7ac4-74ae-11ec-94a7-9be3a98b0a8b.html