rogan brown intricately cuts-out coral garden capturing nature's fragility
2 min read
fascinating cut-out paper forms
artist rogan brown introduces his intricate cut-out paper coral garden, following his previous series dubbed 'ghost coral variation' that emphasized the mesmerizing diversity of the coral realm. in his previous sculptures, the artist sought to capture the durable yet fragile silhouette of the corals, which is a symbol of the overwhelming impacts of global warming and man-made destruction.
changes in environmental conditions can harm marine life, leading corals to expel the symbiotic algae living in their body, turning it white or pale — known as coral bleaching. as the artist stated, this project reminded us of how astonishing these ecosystems are, and was a hope to save them. now, with his latest project, he celebrates the struggle of marine biologists and activists across the world, who are striving to preserve and revive coral reefs bleached and damaged by climate change. 'sadly only a fraction of suffering reefs can be saved this way but it offers nonetheless some hope. we must remember, especially during COP26, that ocean temperatures are rising due to man-made global warming caused by burning fossil fuels,' mentioned the artist.

'coral garden'
all images courtesy of rogan brown
coral garden is a journey to the heart of nature
'coral garden' is part of an ongoing series displayed at galerie bettina in paris, as a contemplative journey to the heart of nature. 'the reefs are a potent symbol of the planet itself: teeming with life and colour and biodiversity and yet threatened with extinction because of our inability to control our own appetites and to accept the consequences of our own actions.'
mimicking nature's fascinating forms, his artworks take shape as multiple layers of hand and laser-cut paper; first drawn by hand in exacting detail, then vectorized and cut. the intricate motifs are woven into the piece enchanting the viewer, while the chosen material emphasizes the paradoxical qualities of nature, both its fragility and strength.'there is a pleasing poetic symmetry in taking this material that was cut from the forest and by cutting and transforming it once again returning it to its origins,' said the france-based artist.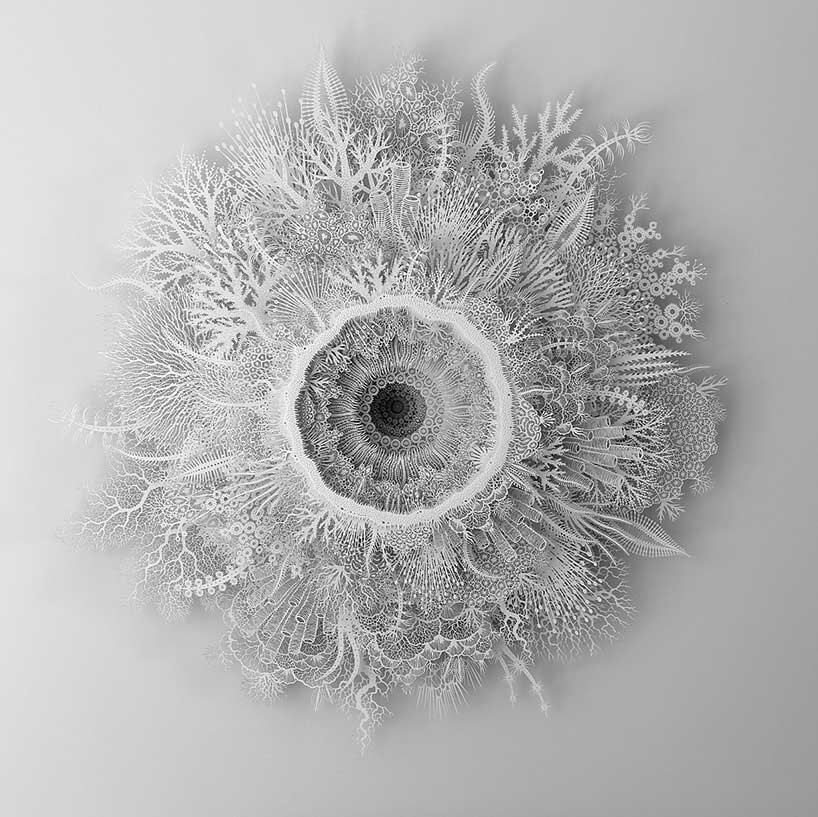 'ghost coral variation'
as he mentioned in an instagram post, this work took months to build. watching this video, you can get immersed within the vivid core of this mesmerizing piece. see more works of the artist in our previous article here and here.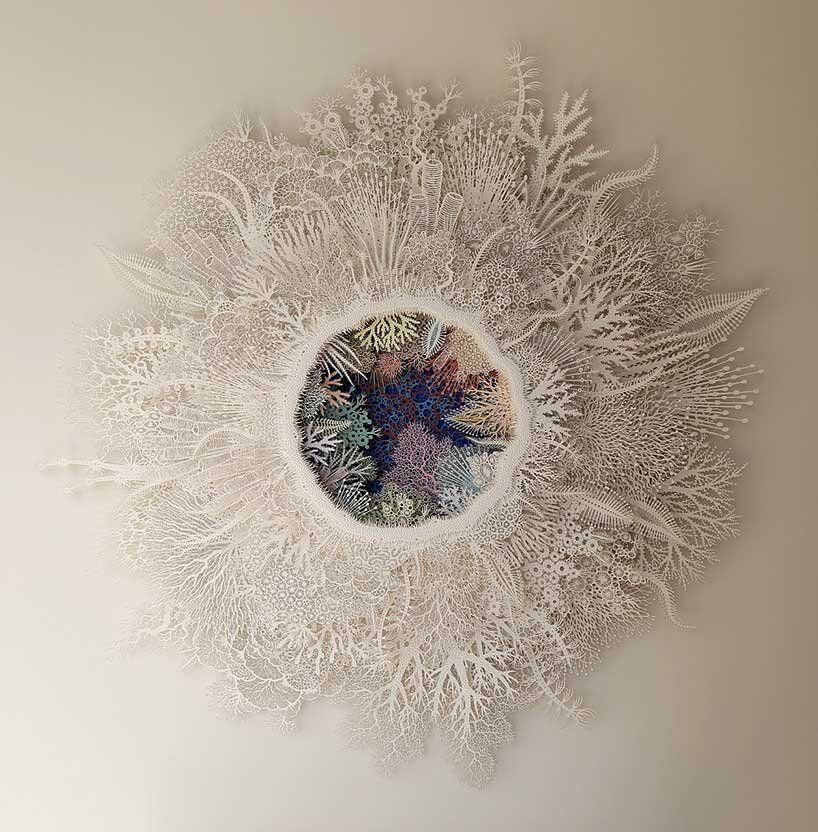 it holds a vibrant core, reflecting the life and the beauty
rogan brown intricately cuts-out paper coral garden capturing nature's fragility