Protests to continue against contractor's COVID-19 vaccination mandate for employees | Covid-19
2 min read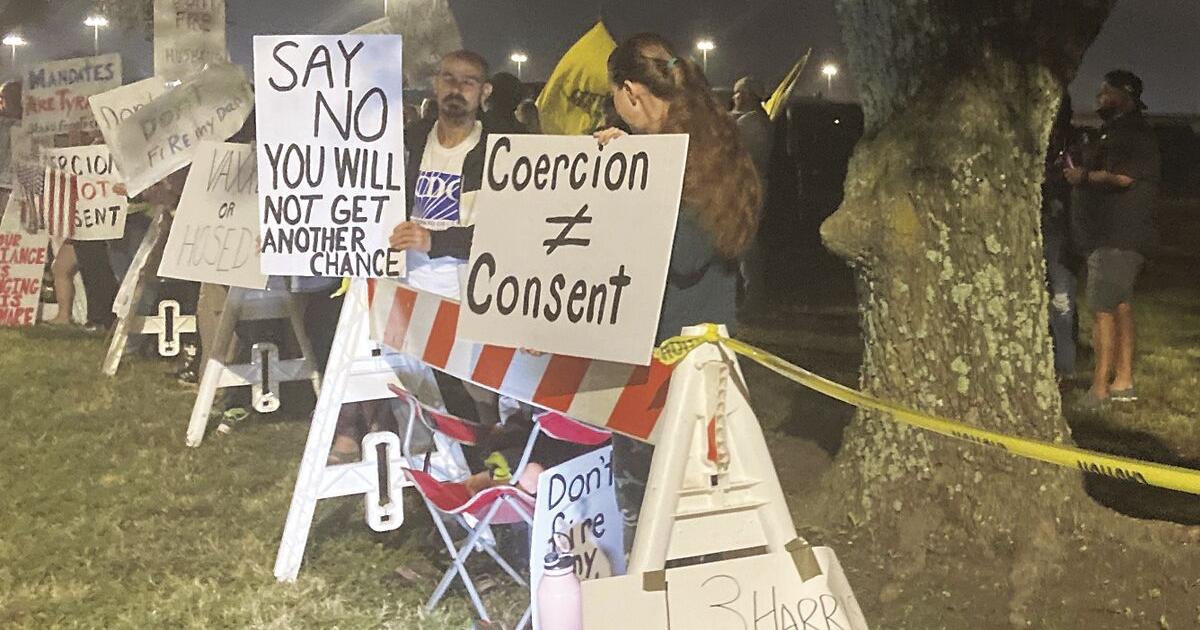 A group of employees at the L3Harris plant in Greenville say they plan to continue protesting against the defense contractor's requirement they be vaccinated against COVID-19, even though an executive order issued by President Joe Biden will not be enforced.
Samuel Schatte has served as a spokesperson for the workers and said they intend to return to the front gates of Hunt County's largest employer each and every Friday morning.
"We do not plan on backing down until the mandate is blocked or the company starts to push back against the executive order and protect its employees rights," Schatte said in response to the announcement this week from the Occupational Safety and Health Administration (OSHA), suspending enforcement of the Biden administration's COVID-19 vaccine mandate for large private businesses.
OSHA said the suspension was in response to a federal appeals court upholding a stay on it last week.
"I was quite pleased to see the ruling of the 5th circuit court on the OSHA mandate," Schatte said. "This is definitely a step in the right direction."
In mid-October, L3Harris issued a statement indicating that while it respected the right of it's employees to protest peacefully, the company would comply with the Biden administration's vaccine mandate in order to "resume further in-person collaboration by our entire workforce as soon as possible."
At that time, the employees had been given until Dec. 8 to be fully vaccinated.
While that date had been pushed back since then, Schatte said the employees believe they are still facing an impending time limit.
"When OSHA came out with their order for Jan. 4,  L3Harris sent an email out saying that they would move the deadline for being fully vaccinated or receiving an exemption from Dec. 8 to Jan. 4," Schatte said. "At this time it does not seem that the ruling from the 5th Circuit court will affect what L3 does as L3 still falls under the military and federal contact mandates."
He noted there is still at least one pending class action lawsuit against the Biden administration in the 5th Circuit that covers all five branches of the military as well as all civilian contractors.
"I am encouraged by the fact that it is the same court that ruled in the OSHA case and am hopeful for a similar outcome," he said. "L3Harris has granted many exemptions but the accommodations of weekly testing at the employees expense is still discrimination against the unvaccinated employees and a violation of those employees medical privacy. This has never been acceptable and never will be."
Officials with the company declined comment when asked about the situation.
"L3Harris does not have an official statement in response to your inquiry," said L3Harris Communications Lead Marcella F. Thompson.

https://www.heraldbanner.com/covid-19/protests-to-continue-against-contractor-s-covid-19-vaccination-mandate-for-employees/article_fc87e12e-4a1a-11ec-b14d-8f71770c8bd1.html