Former security officer charged with stealing, selling weapons from National Guard contractor | Community
4 min read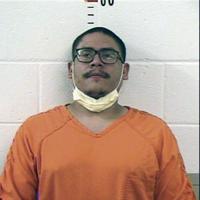 A Pecos man is accused of stealing guns and several other items from a guard shack at the New Mexico National Guard's headquarters near Santa Fe. Investigators believe the same man sold one of the guns to a man in Rowe.
An arrest warrant was issued Tuesday for 31-year-old Jacob S. Santillanes. He's wanted on felony charges of receiving a stolen firearm and unlawful sale of a firearm without a federal background check, along with three drug-related charges.
Police began investigating Santillanes in early December after an employee of Blue Stone Solutions LLC, a security company contracted by the National Guard, notified New Mexico State Police that several items had been stolen from a locked cabinet inside its guard shack.
The security contractor reported that 14 handguns, one rifle and approximately 1,500 rounds of ammunition had been stolen Dec. 7 sometime between 4:45 p.m. and 7 p.m.
The contractor identified the suspect as Santillanes, who'd been working there as a security guard until Dec. 7 when he was fired for using fentanyl while on duty, according to an arrest warrant affidavit filed in Santa Fe Magistrate Court on Dec. 20.
Santillanes was confronted by his superiors after a burnt piece of tinfoil with "drug residue" was found near his workstation, according to the affidavit.
A supervisor questioned Santillanes about the foil, and about the missing weapons. During the interview, which was recorded on a cellphone, Santillanes admitted to using fentanyl and to taking firearms, along with several other items, according to the affidavit. Santillanes agreed to return the items by 3 p.m. Dec. 8.
Reported stolen from the contracted company were 14 Smith & Wesson M&P 9 M2.0 handguns, one Smith & Wesson M&P 15 rifle, 19 batons, 17 pairs of handcuffs, 20 canisters of pepper spray, two Kenwood radios, two ballistic body armor vests, a Panasonic Tough Book laptop computer and a range bag, according to the affidavit.
State Police arrived at the National Guard office on Dec. 8 to wait for Santillanes. Around 3:10 p.m., two men arrived and returned several items on behalf of Santillanes. The items included the Panasonic laptop, one pair of handcuffs, one baton, three canisters of pepper spray, one duty belt, one Smith & Wesson M&P 9 M2.0 handgun, four magazines, a Kenwood radio, a badge and a range bag.
The two men told police they didn't know the items had been stolen and said Santillanes was at a McDonald's near Interstate 25 and Cerrillos Road in Santa Fe, parked in a Chevy pickup.
Officers located Santillanes and arrested him on two outstanding arrest warrants — one from Mora Magistrate Court for failing to appear for a hearing in a case involving misdemeanor traffic charges, and one from San Miguel Magistrate Court for failing to pay fines related to misdemeanor DWI charges.
Santillanes was booked into the Santa Fe County Adult Detention Center after being treated at a hospital for substance withdrawal. He was released from custody Dec. 21 after posting 10 percent of a $2,500 bond.
This past Sunday, a man in Rowe called State Police and stated he'd purchased a firearm and some other items from Santillanes, someone he'd known since high school, via Facebook Messenger. After seeing a news story about the guns stolen from the National Guard office, the man was concerned that the gun he'd purchased may be stolen.
The man told police Santillanes had contacted him on Facebook and offered to sell him pepper spray, a baton, a case of 9 mm ammunition, two pistol magazines, two pistol grips and a Smith & Wesson M&P handgun, according to an amended arrest affidavit filed in San Miguel County on Wednesday.
The man agreed to purchase the handgun, magazines and ammunition for $250, and met Santillanes at his apartment in Pecos, according to the affidavit. Police checked the serial number on the gun and found that it had been reported stolen.
Police obtained a search warrant Tuesday for Santillanes apartment in Pecos. While searching the apartment, officers located a large tote bag that was "nearly full to the top" with cannabis, along with two digital scales.
In Santa Fe Magistrate Court, Santillanes is charged with seven felony counts of larceny of a firearm, one count of felony larceny and five counts of misdemeanor larceny.
In San Miguel Magistrate Court, he faces a felony charge of possession of a controlled substance, felony attempt to distribute cannabinoids and misdemeanor possession of drug paraphernalia, along with the two felony counts of receiving a stolen firearm and unlawful sale of a firearm.
Santillanes was not in custody as of this writing.
https://www.lasvegasoptic.com/news/community/former-security-officer-charged-with-stealing-selling-weapons-from-national-guard-contractor/article_5a572af8-6997-11ec-ad13-cb44612bce26.html